| | |
| --- | --- |
| Posted by joelasutherland on December 3, 2009 at 12:53 PM | |
December 1st was my 29th birthday, and I decided to celebrate in style this year.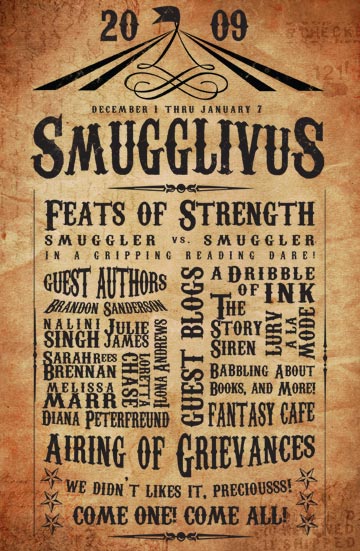 First, one of the best book blogs on the net today, The Book Smugglers, kicked off their new annual tradition, Smugglivus, with a guest post by yours truly on my birthday. You can check it out HERE, if you'd like. In the post, I talk a little bit about their blog, a little bit about why I've been so busy these past six months or so (which is also why I've also been so quiet on this here blog, my apologies), and I also announced a new contest, one much simpler than my last: post a comment to my guest blog over at The Book Smugglers, and you're automatically entered into a draw for a free e-book version of Frozen Blood, and I'll also add the three winners' names as characters (either villains or heroes) into my next published book. People seem to be really enjoying it so far, and that's a relief. It would have been mightily embarrassing if people didn't comment, or worse, if they commented but said something like, "Please don't enter me in the draw -- who does this Joel guy think he is, anyway?" So head on over and post a quick comment, why don'tcha?
Second, the 3rd annual Black Quill Award nominations were announced on my birthday, and much to my surprise, Frozen Blood was nominated for Best Small Press Chill. I'm listed with some extraordinary work and a couple of good friends (Michael Louis Calvillo and Kim Paffenroth), and that made the news even merrier! Two awards are given in each category, an editor's choice and a reader's choice, so if you liked Frozen Blood and wanted to vote for it, I won't stop you -- there's information at the bottom of the ballot on how to register and vote. You can check out the full ballot HERE. So head on over and vote, why don'tcha?
Third, I worked all day and then went to a course at night. So that wasn't really celebrating in style, but no matter. I received a whackload of Facebook and Myspace comments, emails and telephone calls, wishing me a happy birthday, and Colleen gave me some Grade-A presents, so it's all good.
Heck, it's all great.